Posted on
By Justin Ashford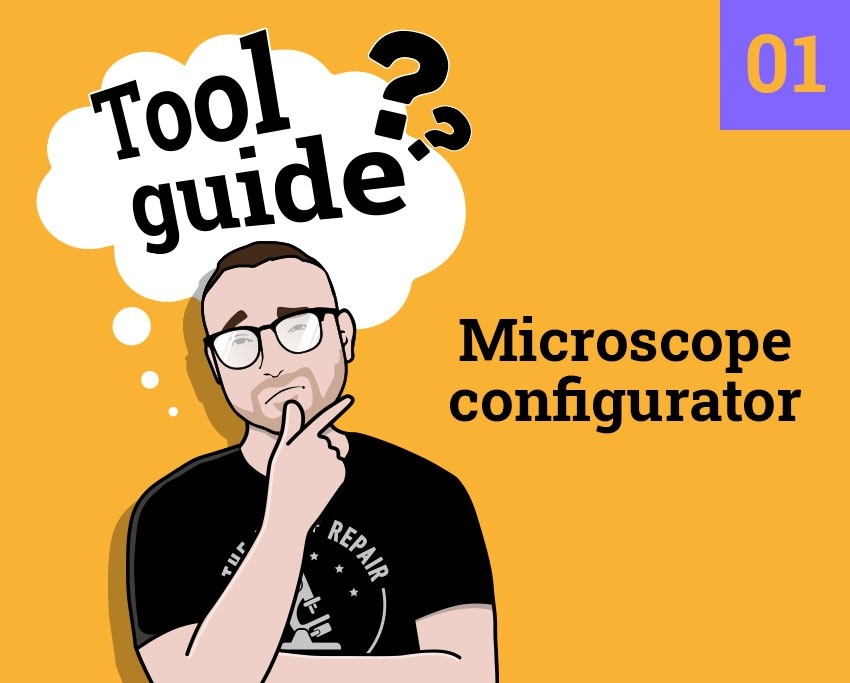 Looking for the best-choice microscope? High quality for excellent price? You're 3 steps away from finding it. So….Which Head would you like? Which Body style would you like? Which Camera would you like?
Configure your ultimate microscope in 3 easy steps!
First! Feel free to watch this video from my perspective talking way too much about microscopes and you can also see me visit another repair shop in the community while you go over the steps!. Try to identify the components I'm talking about in the video! It will help you learn =)
Looking for the best-choice microscope? High quality for a most excellent price? You're 3 steps away from finding it.
I have included the purchase links at the BOTTOM, so please take a moment to read the page and I'm sure you will learn what you need to get your first microscope for repair!
This section is broken down into three sections, the Head, Body and Camera. As all three are important in 2021 to grow your business as do your work!

1. Which Head would you like?
2. Which Body style would you like?
3. Which Camera would you like?

1. Select your Head Style


1. Binocular – Not Available
This microscope head is just an adjustable binocular head, very basic, and does not allow any type of camera upgrades to show off your work. This unit is not desirable because of this and should not be selected.

2. Trinocular – Not available
This microscope head has a third port at the top for a camera but uses a shutoff switch to switch between one of the eyes and the camera port, essentially cutting off depth perception, this is fine for an observation type situations, but bad for one where you need your depth perception. This makes this unit undesirable and should not be selected.

3. Simufocal – THE ONE YOU NEED!
This microscope head allows you to use a camera at the same time as both eyepieces. You will never need to upgrade this.

The number one reason we only support this model is that the price difference from the factory is so small between the non simufocal units that even purchasing the other types of microscope heads only makes sense to confuse the user.

So we decided only to give one option, the best option. 

AOR-M-001
€167,52 incl. VAT
4. The head should come with the following items to make sure you get everything you need. You can buy these accessories separately. All of them are advised to buy if you want to start great.
AOR-M-002
AOR-M-003
AOR-M-005
AOR-M-004
.35x Reduction lens
.5x Barlow Lens
Barlow Cover
Microscope Light

The reduction lens job is to reduce and bring your microscope camera into focus at the predefined variable focal point. The general rule of thumb is that the longer the mounting tube/adapter the more you will potentially suffer from focusing issues as your microscope head bobs and sways. Whereas with a solid single-piece reduction lens, you can lock your camera in tight and low without any wobbling to throw off your image. 

The Barlow lens job is to reduce or magnify the overall lens arrangement of the microscope. It's important to note that the Barlow lens selected will also designate the working room under your microscope head. I always recommend a .5x Barlow as it allows the most amount of working room as well as giving you a great look at what you're working on, both close and far away.

To calibrate your scope to use a .5x Barlow, turn both the focusing rack and the fine adjustment knobs to their middle position and then mount the head 165mm from your targeted work area.

Please be aware, if you use a preheater it might be prudent to adjust from the top of your heater + sample board to get a proper calibrated distance. 

The Barlow cover is at it says, its a cover to protect the internal glass of your Barlow lens from the daily flux, fumes, and dirt of electronics repair. While you don't need it... It's a few bucks to protect your expensive optics. 
Without some light, you're not going to be seeing anything under your scope. Seeing things at such a scale requires more light to visualize in the optics of the microscope, there are many types of lights for this, many can be found for super cheap, but end up being very weak in terms of light output. Having a good light source can really change how you see your work!
€26,81 incl. VAT
€17,40 incl. VAT
€14,33 incl. VAT
€42,90 incl. VAT
2. Select body


AOR-M-009
AOR-M-010
AOR-M-012
AOR-M-013
Heavy Boom stand
Articulating Arm Stand
Mid-Sized Metal Rework Station
Lightweight Stand
This is the heaviest option, great for anyone with a lot of desk space, good maneuverability, high stability.

A big advantage of this base is that you can easily pull it off your desk to give yourself a super solid look at the inside of an awkward item or area, such as a charge port on an assembled phone. 
This option is perfect for those who want to have a lot of flexibility in the location of their scope on the
desk as they work.

The downside is you lose stability and vibrations transfer from steps and desk movement to your scope.
Great middle ground for those who want a durable work area and won't be moving the microscope much.

These stands give you a ton of organizational room to play around with as well as a basic silicone work mat. It is recommended though to replace the mat with a silicone, fiber-infused work mat to combat work mat warping.
These are perfect for moving around the lab, showing things to customers, or just a cramped desk space where you need to do other things.

Or for those who will only use the microscope very lightly.

This Stand comes with AOR-M-014 (Silicon mat) as a replacement for the plastic one it comes with.  It can be used with or without the silicone mat.

€ 164,85 incl. VAT
€ 163,51 incl. VAT
€ 143,95 incl. VAT
€ 66,68 incl. VAT
3. Select camera
Cameras come in 3 versions, based on resolution. My personal recommendation is the 1080p unit as it hits a nice sweet spot in the middle for both price and performance.
AOR-M-008
AOR-M-007
AOR-M-006
720p 60fps
1080p 60fps Microscope Camera
4k 60fps Microscope Camera

With a basic 720p camera you can document your work or show off some basic stuff to your clients!

It's cheap, it works!

Im thinking that this might even be phased out soon due to the quality and pricing of better lower-end 1080p units.

If you really want to show off your work on social media and share your repair content with the world, 1080p is still the standard!

Great Quality, Great Price.

This Camera is as high resolution as the market currently provides!

With 4k resolution, you can document and capture 4x the details of a 1080p camera!

Warning, this camera requires a 4k TV or capture card to fully utilize!

 
 
Not advisable at this time.
€ 113,95 incl. VAT
Not Available Yet. Currently testing new units!
4. Select your set, your ready to go!
I've got some sets made for you! Now available with a combi discount.
 

1. Lightest, Cheapest

2. Organized Setup

3. Long Reach Setup

4. Standard Setup

Part number
AOR-MS-SMALL
AOR-MS-METALREW
AOR-MS-ARTARM
AOR-MS-BOOMST
Name set
Small
Metal Rework
Articulating Arm
Boom Stand
 
Simufocal Head
AOR-M-001
AOR-M-001
AOR-M-001
AOR-M-001
Reduction Lens
AOR-M-002
AOR-M-002
AOR-M-002
AOR-M-002
Barlow Lens
AOR-M-003
AOR-M-003
AOR-M-003
AOR-M-003
Microscope Light
AOR-M-004
AOR-M-004
AOR-M-004
AOR-M-004
Barlow Lens Cover
AOR-M-005
AOR-M-005
AOR-M-005
AOR-M-005
1080P Camera
AOR-M-007
AOR-M-007
AOR-M-007
AOR-M-007
Stand
AOR-M-013
AOR-M-012
AOR-M-010
AOR-M-009
Total Weight of package (kg)
6,84 kg
10,14 kg
13,29 kg
22,18 kg
 
 
 
 
 
Description
The lightest and most mobile setup in the bunch. This can easily be picked up and unplugged to be used in multiple locations or when you need to go mobile! Its just not very stable.
With the metal rework station setup you will get a solid base to work on with lots of room to organize tools and small components, but its not very portable.
Using an articulating arm with your microscope will give you the most desk mobility, allowing you to work on a variety of sized items, on and off the table. But its weakpoint is that it will shake when people walk near it.
The standard boom stand is amazingly stable and can manouver off the table for charge port work! Its very heavy and will never move from its place!
Total price loose components

€ 449,59

incl. VAT

€ 526,86

incl. VAT

€ 546,42

incl. VAT

€ 547,76

incl. VAT
Combi deal with discount

€ 419,- incl. VAT

€ 499,- incl. VAT

€ 519,- incl. VAT

€ 519,- incl. VAT

How to order
Order here
Order here
Order here
Order here